Parallel operation of the power supply transformers of the automatic block system at traction substations of adjacent electrified lines
Keywords:
automatic lock-line supply, parallel operation of transformers, winding connection group, vector diagram, voltage quality
Abstract
In parallel operation of high-voltage power lines of automatic block system in the areas of splicing electric traction systems AC and DC there are failures in the auto-lock devices, caused by failure to conditions of parallel operation of transformers. Inconsistency of their work caused by various schemes of traction substations connecting AC and DC lines to the external power supply, a different number of transformation steps, as well as various schemes and groups of windings connection of automatic block system of transformers. The article analyzes the conditions of parallel transformers auto-lock on the adjacent traction substations different electric traction systems and solved the problem of providing their coordinated work.
References
Sychenko V. G. Elektrozhyvlennya prystroyiv zaliznychnoyi avtomatyky [Power supply of railway automatics equipment]. Dnipropetrovsk, Makovetskiy Publ., 2009. 372 p.
Sychenko V. H., Bosiy D. O., Kuznetsov V. V. Yakist' elektrychnoyi enerhiyi v merezhakh netyahovykh spozhyvachiv elektryfikovanykh zaliznyts' [Electric energy quality in non-tractive consumers networks of electrified railways]. Hirnycha elektromekhanika ta avtomatyka - Mining electrical engineering and automation, 2015, vol. 96, pp. 9-13.
Ratner M. P., Mogilevskiy E. L. Elektrosnabzhenie netyagovykh potrebiteley zheleznykh dorog [The power supply of railways non-tractive consumers]. Moscow, Transport Publ., 1985. 295 p.
Dubinets L.V., Momot O.І., Marenich O.L. Elektrychni mashyny. Transformatory. Asynkhronni mashyny [The electric machine. Transformers. Asynchronous machine]. Dnepropetrovsk, DIIT Publ., 2004, 208 p.
Pravila tekhnicheskoy ekspluatatsii elektro-ustanovok potrebiteley[Rules of electrical consumers technical operation]. Kharkiv, Industria Publ., 2007. 288 p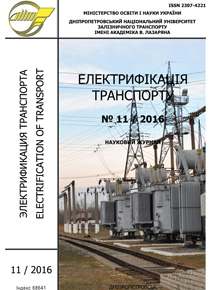 Downloads
License
При направленні статті в редакцію, автор гарантує, що стаття надається для публікації уперше і раніше не була опублікована в інших виданнях повністю або частково.
Підписанням ліцензійного договору автор(и) підтверджує(ють), що має(ють) виняткове авторське право на статтю і передає(ють) невиняткові права на свою статтю видавництву журналу «Електрифікація транспорту» для публікації в черговому номері журналу. Автор(и) так само дає(ють) згоду на передачу і розміщення електронної версії своєї статті на сайтах баз даних, створюваних і поширюваних через Інтернет.