Traction force of passenger electric definition for traction providing solve
Keywords:
passenger electric locomotive, the acceleration of the train, starting speed, starting tractive force, the main specific resistance movement, tractive characteristics, universal characteristic
Abstract
The specificity of the definition of governing parameters of the equations of motion in the tasks of traction security is the lack of traction characteristics, data on the amount of the mass of an electric locomotive.

In the work of the proposed solution to this problem at the expense of input in the relative weight of the locomotive and the use of universal traction characteristics obtained for the electric locomotive with collector traction motors and DC pulsating current, as well as with asynchronous traction drive. As a result of the proposed analytical expressions for determining the principal of specific resistance movement and maximum tractive characteristics for all of the zones of the power of the main types of traction drives.

Proposed analytical dependence for determining the mass of an electric locomotive. The analysis of which showed that the main parameters determining the mass of the locomotive with fixed mass ended, are follows: type of traction drive and the acceleration of the train with starting speed.

The main feature of the obtained expressions for determination of the parameters of the equation of motion is that they do not include the mass of the composition and of the locomotive. It gives the opportunity to the solution of the problem based on the results of traction calculation.
References
Сергиенко Н. И. Решение проблем подвижного состава железных дорог Украины через взаимо-действие государственного и частного секторов экономики / Н. И. Сергиенко // Локомотив-информ. – 2010. – №6. – С. 40-46.
Сломянский А. В. Выбор типов магистральных локомотивов / А. В. Сломянский // Тр. ВНИИЖТа. – М.: Трансжелдориздат, 1960. – № 184. – 164 с.
Гетьман Г. К. Моделирование ограничений области допустимых управлений уравнения движе-ния поезда в задачах тягового обеспечения / Г. К. Гетьман // Вісник Харківського державного політехнічного університету: зб. наук.пр. – Харків: ХДПУ, 1999. – № 85. – С.44-51.
Гетьман Г. К. Определение оптимальной по минимуму расхода энергии на движение поезда мо-щности локомотива // Транспорт. Математичне мо-делювання в інженерних та економічних задачах транспорту: Зб. наук.пр. / Ред. кол.: Босов А. А. /гол. ред./ та ін. – Дніпропетровськ: Січ, 1999. – С. 177–182.
REFERENCES
Sergienko N. I. Reshenie problem podvizhnogo sostava zheleznykh dorog Ukrainy cherez vzaimodeystvie gosudarstvennogo i chastnogo sektorov ekonomiki [The solution of the problems of the rolling stock of Railways Ukraine through the interaction of public and private sectors of economy] / N. I. Sergienko // Lokomotiv-inform. – 2010. – №6. – p. 40-46.
Slomyanskiy A. V. Vybor tipov magistralnykh lokomotivov [Selection of the locomotive types] / A. V. Slomyanskiy // Tr. VNIIZhTa. – M.: Transzheldorizdat, 1960. – № 184. – 164 p.
Getman G. K. Modelirovanie ogranicheniy ob-lasti dopustimykh upravleniy uravneniya dvizheniya poezda v zadachakh tyagovogo obespecheniya [Model-ing of the limitations of the tolerance departments of the equations of motion of the train in the tasks of traction ensure] / G. K. Getman // Vіsnik Kharkіvskogo derzhavnogo polіtekhnіchnogo unіversitetu: zb. nauk.pr. – Kharkіv: KhDPU, 1999. – № 85. – pp. 44-51.
Getman G. K. Opredelenie optimalnoy po mini-mumu raskhoda energii na dvizhenie poezda moshchnosti lokomotiva [Determination of optimal on a minimum consumption of energy for the movement of the trains of the the locomotive power] // Transport. Matematichne modelyuvannya v іnzhenernikh ta ekonomіchnikh zadachakh transportu: Zb. nauk.pr. / Red. kol.: Bosov A. A. /gol. red./ ta іn. – Dnіpropetrovsk: Sіch, 1999. – pp. 177–182.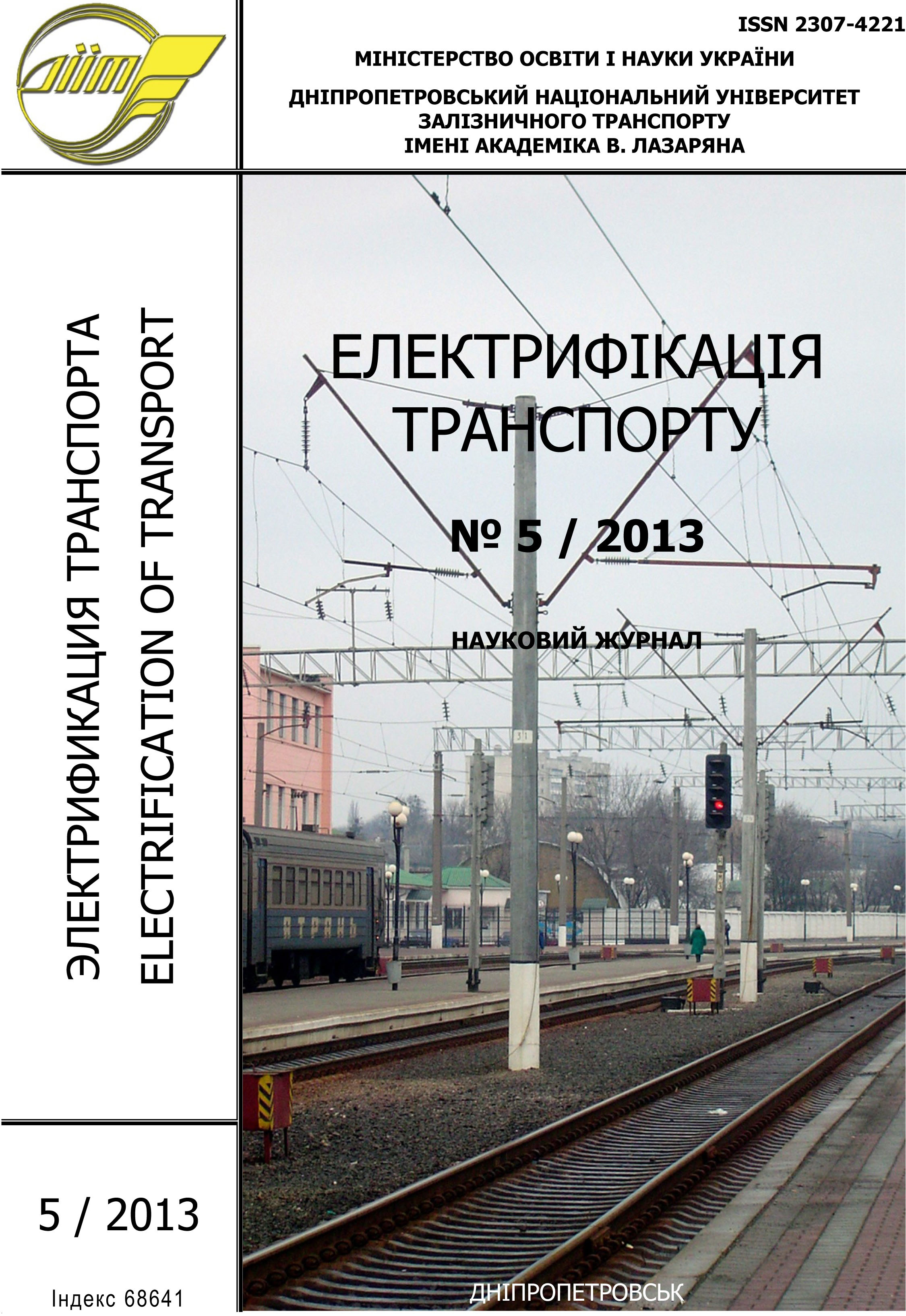 Downloads
Section
Electric Rolling Stock
License
При направленні статті в редакцію, автор гарантує, що стаття надається для публікації уперше і раніше не була опублікована в інших виданнях повністю або частково.
Підписанням ліцензійного договору автор(и) підтверджує(ють), що має(ють) виняткове авторське право на статтю і передає(ють) невиняткові права на свою статтю видавництву журналу «Електрифікація транспорту» для публікації в черговому номері журналу. Автор(и) так само дає(ють) згоду на передачу і розміщення електронної версії своєї статті на сайтах баз даних, створюваних і поширюваних через Інтернет.