The basic and method of determining the form and parameters of current of the compensating equipment of traction networks
Abstract
A method for determining the shape and parameters of current compensating device to reduce unproductive energy losses in traction network of constant current. Shows the dependence of the current hour for really active part of the Dnieper railway.
References
Петров А. В. Непродуктивні втрати електроенергії в тяговому електропостачанні системи постійного струму / А. В. Петров, М. О. Костін // Вісник ДНУЗТ. – 2010. – № 31. – С. 106-110.
Петров А. В. Методи спектрального аналізу випадкових технологічних коливань напруги та струму фідера ТП постійного струму / А. В. Петров // Вісник ДНУЗТ. – 2010. – № 34. – С. 77-80.
Тонкаль В. Е. Компенсация неактивных составляющих полной мощности в цепях несинусоидального тока и напряжения / В. Е. Тонкаль, В. Я. Жуйков, С. П. Денисюк [и др.] // Техническая электродинамика. – К.: Наук. думка, 1989. – №5. – С. 26-29.
REFERENCES
Petrov A. V., Kostin M. O. Neproduktyvnni vtraty elektroenerhii v tyahovomu elektropostachanni systemy postiynoho strumu [Unproductive losses of electric power are in the hauling power supply of the system of direct-current]. Visnyk DNYZT-Bulletin DNYZT, 2010, no. 31,pp. 106-110.
Petrov A. V. Metody spektral'noho analizu vypadkovyh tehnolohichnyh kolyvan' naprugy ta strumu fidera TP postiynoho strumu [ Methods of spectrology of casual technological vibrations of tension and current of fidera of TP of direct-current]. Visnyk DNYZT-Bulletin DNYZT, 2010, no. 34,pp. 77-80.
Tonkal' V. E., Zhuykov V. Ya., Denisyuk S. P. Kompensatsiya neaktivnyh sostovlyayuhih polnoy mohnosti v tsepyah nesinusoidal'noho toka i napryazheniya[Indemnification of nonactive constituents complete power is in the chains of nonsinusoidal current and tension]. Tehnicheskaya elektrodinamika -Technical electrodynamics, 1989, no.5, pp. 26-29.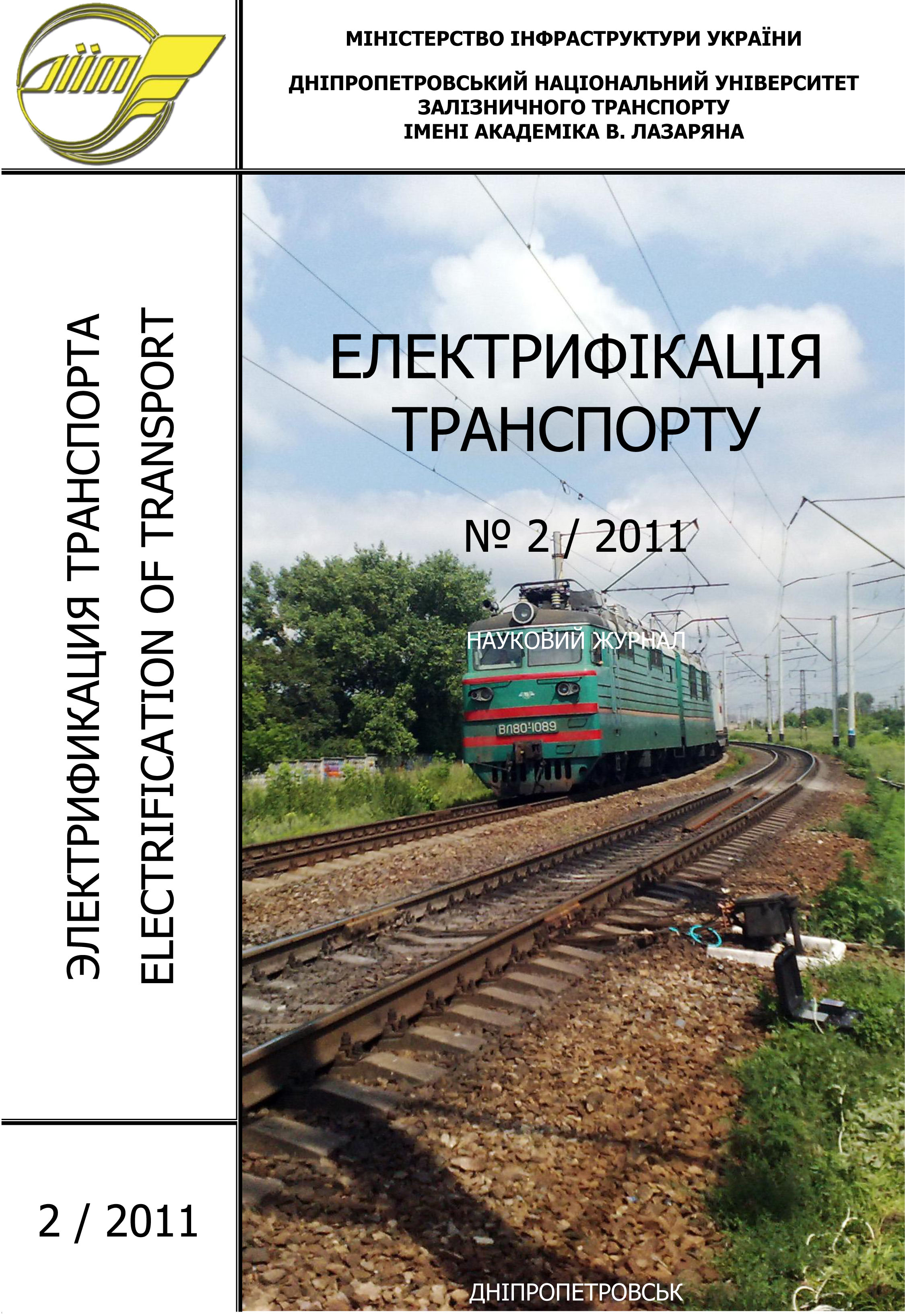 Downloads
License
При направленні статті в редакцію, автор гарантує, що стаття надається для публікації уперше і раніше не була опублікована в інших виданнях повністю або частково.
Підписанням ліцензійного договору автор(и) підтверджує(ють), що має(ють) виняткове авторське право на статтю і передає(ють) невиняткові права на свою статтю видавництву журналу «Електрифікація транспорту» для публікації в черговому номері журналу. Автор(и) так само дає(ють) згоду на передачу і розміщення електронної версії своєї статті на сайтах баз даних, створюваних і поширюваних через Інтернет.