The investigation of the dependence of power losses in contact lines on irregularity of trains flow
Abstract
The dependence of power losses in the contact network on the performance of the uneven flow of trains between two neighboring traction substations.
References
Угрюмов, А. К. Неравномерность движения поездов [Текст] / А. К. Угрюмов. – М. : Транспорт, 1968. – 112 с.
Левин, Д. Ю. Теория оперативного управления перевозочным процессом [Текст] / Д. Ю. Левин. - М.: Транспорт, 2008. – 625 с.
Мирошниченко, Р. И. Режимы работы электрифицированных участков [Текст] / Р. И. Мирошниченко - М.: Транспорт, 1982. – 207 с.
Митрофанов, А. Н. Моделирование процессов прогнозирования и управления электропотреблением тяги поездов [Текст] / А. Н. Митрофанов; Самарская гос. акад. путей сообщения. - Самара. - 2005, -168 с.
Доманская, Г. А. Энергосберегающие технологии тягового электроснабжения железных дорог с учетом режимов работы питающих их энергосистем [Текст] : автореф. дис. … канд. техн. наук 05.22.09 / Г. А. Доманская. – Д.:, 2007. – 25 с.
Землянов, В. Б. Энергооптимальные технологии анализа и регулирования электропотребления на тягу поездов [Текст]: автореф. дис....канд. техн. наук : 05.22.09 / Землянов Владимир Борисович;[ДНУЖТ].-Д.:2000.-23 с.
Эксплуатационные требования к параметрам устройств энергоснабжения железных дорог, электрифицированных на постоянном токе [Текст] : сб. науч. тр. / ВНИИЖТ – Москва : Трансжелдориздат, 1959. – 234 с.
Кузнецов, В. Г.Оптимизация взаимного расположения поездов на перегоне с учётом условий электроснабжения [Текст] / В.Г. Кузнецов, К.А. Калашников // Тезисы 4ой Международной научно-практической конфе-ренции "Электромагнитная совместимость и безопасность на железнодорожном транспор-те"EMC&S-R".-2011.-Чинадиево: ДНУЖТ. –С. 48-49.
Кузнецов, В. Г. Оптимизация графика движения поездов с учётом энергетической составляющей [Текст] / В.Г. Кузнецов, К.А. Калашников // Труды международной научно-практической конференции "Проблемы и перспективы развития транспортного комплекса: образование, наука, производство".-2009. - г. Ростов на Дону: РГУПС.-С.362-363.
Кузнецов, В. Г. Энергооптимальное управление потоком поездов [Текст] / В.Г. Кузнецов, К.А. Калашников // Материалы II международной научно-практической конфе-ренции "Энергосбережение на железно-дорожном транспорте". – 2011. – Ждениево: ДНУЖТ. – С.35-37.
REFERENCES
Ugryumov A. K. Neravnomernost dvizheniya poezdov [Neravnomernost' of dvizheniya poezdov]. Moscow, Transport Publ., 1968. 112p.
Levin D. Yu. Teoriya operativnoho upravleniya perevozochnym protsessom [Teoriya of operative upravleniya perevozochnym processom]. Moscow, Transport Publ., 2008. 625 p.
Mirohnichenko R. I. Rezhimy raboty yelektrofitsirovanyh uchastkov [Modes of operations of the electrified areas]. Moscow, Transport Publ., 1982. 207 p.
Mitrofanov A. N. Modelirovanie protsessov prognozirovaniya i upravleniya yelektropotrebleniem tyahi poezdov [Design of processes of prognostication and management the electro-consumption of traction of trains]. Samara, Publ., 2005.168 p.
Domanskaya G. A. Enerhozberegayuhie tehnolohii tyahovoho elektrosnabzheniya zheleznyh dorog s uchetom rezhimov raboty pitayuhih ih enerhosistem. Kand, Diss. [Energysaving technologies of hauling power supply of railways taking into account the modes of operations of feed-in them grids Cand. Sci. Diss.]. Dnepropetrovsk, 2007. 25 p.
Zemljanov, V. B. Energooptymal'nye tehnologyy analyza y regulyrovanyja elektropotreblenyja na tjagu poezdov Kand, DIss.[Energooptimalnye technology analysis and regulation of electricity for traction Cand. Sci. Diss.]. Dnepropetrovsk, 2000. 23 p.
Ekspluatacyonnye trebovanyja k parametram ustrojstv energosnabzhenyja zheleznyh dorog, elektryfycyrovannyh na postojannom toke [Performance requirements for device parameters supply railways, electrified DC]. VNYYZhT, Moskva, Transzheldoryzdat Publ., 1959. 234 p.
Kuznecov, V. G., Kalashnykov K.A., Kuznecov V.G. Optymyzacyja vzaymnogo raspolozhenyja poezdov na peregone s uchёtom uslovyj elektrosnabzhenyja [Optimization of mutual location of trains on the stretch, taking into account ] Tezysy 4oj mezhdunarodnoj nauchno-praktycheskoj konferencyy "Elektromagnytnaja sovmestymost' y bezopasnost' na zheleznodorozhnom transpor-te"EMC&S-R".
[Proc. 4rd Int. Scientific and Practical Conf. "Electromagnetic compatibility and safety in railway transport, those" EMC & S-R "]. DNUZHT, 2011. pp.48-49.
Kuznecov, V. G., Kalashnykov K.A. Optymyzacyja grafyka dvyzhenyja poezdov s uchёtom energetycheskoj sostavljajushhej [Optimization of traffic schedule, taking into account the energy component]. Trudy mezhdunarodnoj nauchno-praktycheskoj konferencyy "Problemy y perspektyvy razvytyja transportnogo kompleksa: obrazovanye, nauka, proyzvodstvo"
["Problems and prospects of development of transport complex: education, science and industry"]. Rostov na Donu : RGUPS, 2009, pp.362-363.
Kuznecov, V. G., Kalashnykov K.A. Energooptymal'noe upravlenye potokom poezdov [Energooptimalnoe flow control trains] . Materyaly II mezhdunarodnoj nauchno-praktycheskoj konfe-rencyy "Energosberezhenye na zhelezno-dorozhnom transporte"
["Energy for railway transport"]. Zhdenyevo: DNUZhT, 2011, pp. 35-37.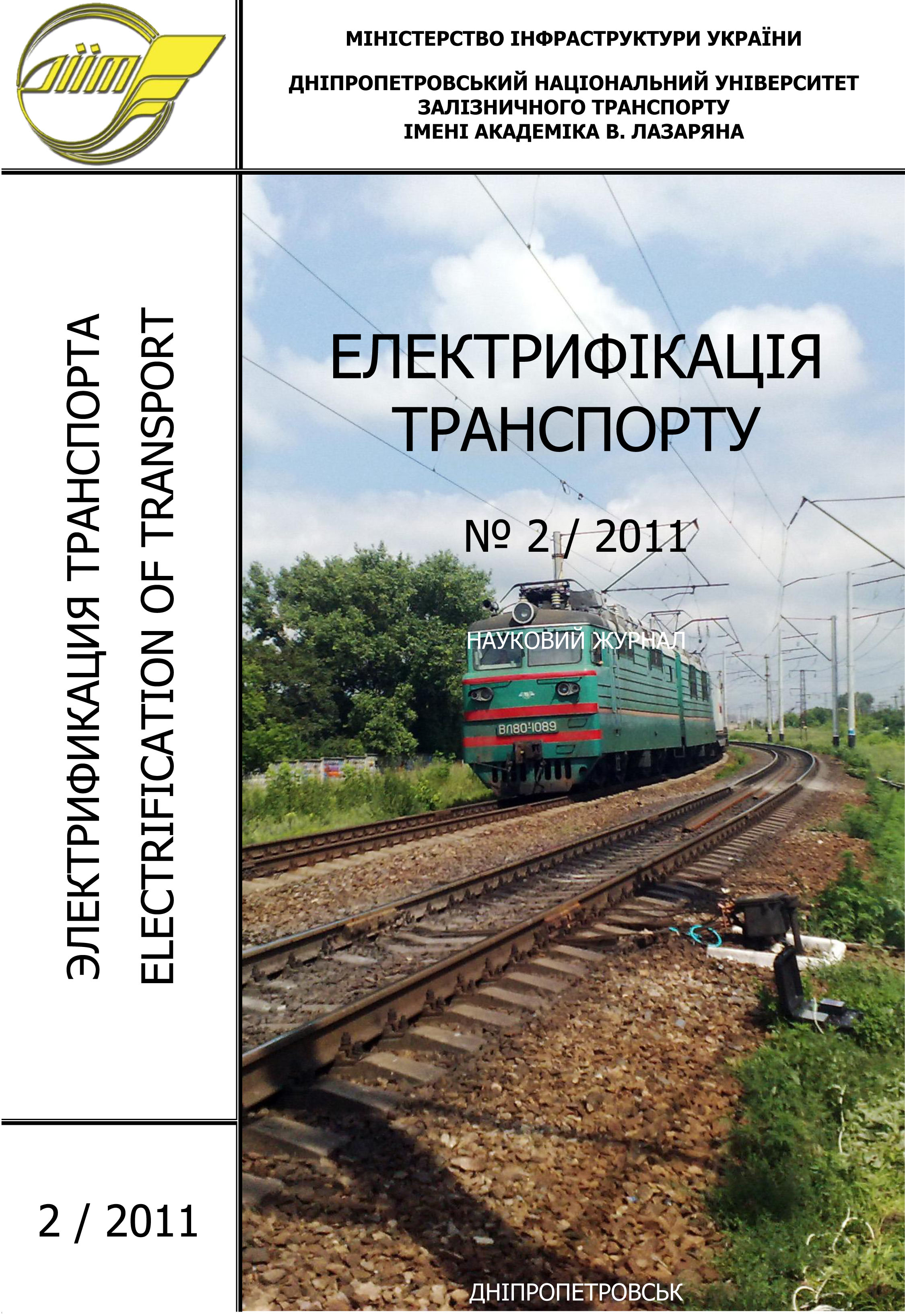 Downloads
License
При направленні статті в редакцію, автор гарантує, що стаття надається для публікації уперше і раніше не була опублікована в інших виданнях повністю або частково.
Підписанням ліцензійного договору автор(и) підтверджує(ють), що має(ють) виняткове авторське право на статтю і передає(ють) невиняткові права на свою статтю видавництву журналу «Електрифікація транспорту» для публікації в черговому номері журналу. Автор(и) так само дає(ють) згоду на передачу і розміщення електронної версії своєї статті на сайтах баз даних, створюваних і поширюваних через Інтернет.