Improving energy efficiency of the heating test the traction motors of electric rolling trunk and industrial transport
Keywords:
structure of electric, traction motor, mutual loading test, the heating, energy efficiency, load current, rationality, thermal performance
Abstract
The problems of choice of a rational regime of mutual loading traction electric motors electric rolling trunk and industrial vehicles when testing for heat.

It is shown that the energy costs of the tests of traction motors for heating can be reduced both by increasing the energy efficiency of the system of mutual load and by optimizing the loading regime of electric traction. Proposed testing for heat traction motors of electric rolling trunk and industrial vehicles and fifteen minutes at the starting load current, respectively.

It is shown that the testing of electric traction motors for heating at load currents equal to the start-up or fifteen-minute values will reduce the cost of electricity to the test by 20-30% and reduce the duration of the test is three to four times with a minimum relative power of power supplies system for the mutual loading.
References
ГОСТ 2582-81. Машины электрические вращающиеся тяговые. [Текст] / Государственный стандарт СССР. – М.: Издательство стандартов, 1981. – 50 с.
Афанасов, А. М. Качественный анализ электрических и магнитных потерь в якорях тяговых электрических машин постоянного тока [Текст] / А. М. Афанасов // Вісник Національного технічного університету «Харківський політехнічний інститут». – Харків: НТУ «ХПІ». – 2010. – № 36. – С. 13-18.
Афанасов, А. М. Универсальные характери-стики магнитных потерь в тяговых электрических машинах [Текст] /А. М. Афанасов // Вісник Дніпро-петр. нац. ун-ту залізн. трансп. ім. акад. В. Лазаряна. – 2010. – Вип. 31. – С 77-80.
Правила ремонту електричних машин електровозів і електропоїздів. ЦТ-0063 [Текст]. – К.: Видавнічий дім «САМ», 2003. – 286 с.
Афанасов, А.М. Энергетическая эффективность нагревания обмоток тяговых электромашин при приёмо-сдаточных испытаниях [Текст] / А. М. Афанасов // Восточно-европейский журнал передо-вых технологий. – 2012. – № 5/8(59). – С. 6-9.
Захарченко, Д. Д. Тяговые электрические машины и трансформаторы [Текст] / Д. Д. Захарченко, Н. А. Ротанов, Е. В. Горчаков – М.: Транспорт, 1979. – 303 с.
Правила тяговых расчетов для поездной работы. – М.: Транспорт, 1985. – 287 с.
Розенфельд, В. Е. Теория электрической тяги [Текст] / В. Е. Розенфельд, И. П. Исаев, Н. Н. Сидоров. – М.: Транспорт, 1983. – 328 с.
Афанасов, А. М. Взаимное нагружение тяговых электромашин с расходящимися магнитными характеристиками [Текст] / А. М. Афанасов // Вісник Східноукраїнського державного університету імені В. Даля. Вип. 5(176). – Ч. 1. – Луганськ: СУДУ, 2012. – С.202-206.
REFERENCES
GOST 2582-81. Mashiny elektricheskie vrash-chayushchiesya tyagovye [Rotating electrical machines traction] / Gosudarstvennyy standart SSSR – State Standard of the USSR. Moscow, Publisher standards, 1981. 50 p.
Afanasov A. M. Kachestvennyy analiz elektricheskikh i magnitnykh poter v yakoryakh tyagovykh elektricheskikh mashin postoyannogo toka [Qualitative analysis of the electric and magnetic losses in traction anchors dc electrical machines]. Vіsnik Natsіonalnogo tekhnіchnogo unіversitetu «Kharkіvskiy polіtekhnіchniy іnstitut» – Journal of the National Technical University «Kharkiv Polytechnic Institute», 2010, № 36. рр. 13-18.
Afanasov A. M. Universalnye kharakteristiki magnitnykh poter v tyagovykh elektricheskikh mashinakh [Universal characteristics of magnetic losses in traction electric machines]. Vіsnik Dnіpropetr. nats. un-tu zalіzn. transp. іm. akad. V. Lazaryana – Journal of Dnipropetrovsk National University of Railway Transport named after Academician V. Lazaryan, 2010, issue 31, pp. 77-80.
Pravila remontu elektrichnikh mashin elektrovozіv і elektropoїzdіv. TsT-0063 [Rules repair electric cars and electric trains. TsT-0063]. Kiev, Pub-lishing house «SAM», 2003. 287 р.
Afanasov A. M. Energeticheskaya effektivnost nagrevaniya obmotok tyagovykh elektromashin pri prie-mo-sdatochnykh ispytaniyakh [The energy efficiency of the heating coils of electric traction in the acceptance tests]. Vostochno-evropeyskiy zhurnal peredovykh tekhnologiy – East European Journal of advanced technologies, 2012, № 5/8(59). рр. 6-9.
Zakharchenko D. D., Rotanov N. A., Gorchakov E. V. Tyagovye elektricheskie mashiny i transformatory [Traction electric machines and transformers]. Moscow, Transport, 1979. 303 p.
Pravila tyagovykh raschetov dlya poezdnoy raboty [Rules traction calculations for train operation]. Moscow, Transport, 1985. 287 p.
Rozenfeld V. E., Isaev I. P., Sidorov N. N. Teoriya elektricheskoy tyagi [Theory of electric traction]. Moscow, Transport, 1983. 328 p.
Afanasov A. M. Vzaimnoe nagruzhenie tyagovykh elektromashin s raskhodyashchimisya magnitnymi kharakteristikami [Mutual loading of electric traction with diverging magnetic characteristics]. Vіsnik Skhіd-noukraїnskogo derzhavnogo unіversitetu іmenі V. Dalya – Journal the Eastern University named after V. Dalya. Lugansk, 2012, issue 5(176), part 1. рр. 202-206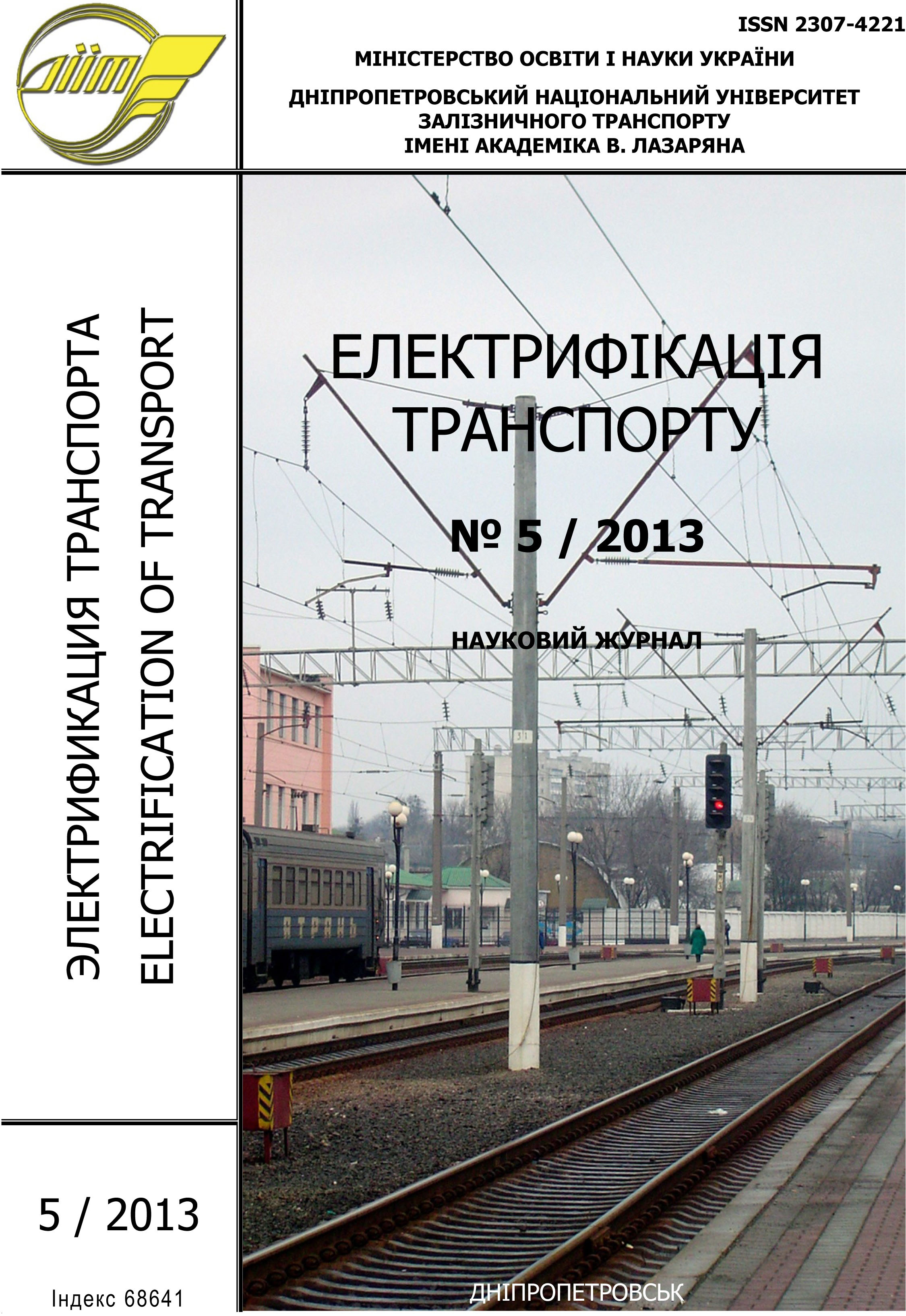 Downloads
Section
Electric Rolling Stock
License
При направленні статті в редакцію, автор гарантує, що стаття надається для публікації уперше і раніше не була опублікована в інших виданнях повністю або частково.
Підписанням ліцензійного договору автор(и) підтверджує(ють), що має(ють) виняткове авторське право на статтю і передає(ють) невиняткові права на свою статтю видавництву журналу «Електрифікація транспорту» для публікації в черговому номері журналу. Автор(и) так само дає(ють) згоду на передачу і розміщення електронної версії своєї статті на сайтах баз даних, створюваних і поширюваних через Інтернет.