The investigation of the possibility of using technical hardwares, step-up reliability of hauling arms
Keywords:
traction units, reliability, technical arrangements.
Abstract
The authors proposed modernization to improve the reliability of traction units. They also reviewed the diagnostics of equipment.
References
Прохорский, А.А. Тяговые и трансформаторные подстанции [Текст] / А.А. Прохорс-кий. – М.: Транспорт, 1983. – 496 с.
Давыдова, И.К. Справочник по эксплуатации тяговых подстанций и постов секционирования [Текст] / И.К. Давыдова, Е.И. Попов, В.М. Эрлих. – М.: Транспорт, 1978. – 416 с.
Фигурнов, Е.П. Релейная защита. Учебник для студентов электротехнических и электромеханических специальностей транспортных и других вузов [Текст] / Е.П. Фигурнов. – К.:Транспорт Украины, 2004.
Сердинов, С.М. Повышение надёжности устройств электроснабжения электрифицированных железных дорог [Текст] / С.М. Сердинов. – М.: Транспорт, 1985.
Шабалин, Н.Г. Новые возможности диагностики полупроводниковых преобразователей [Текст] / Н.Г. Шабалин, С.М. Курмашев, Е.Б. Зазыбина // Локомотив, 2002. – №7.
Проектирование электрической части станций и подстанций [Текст] / Ю.Б. Гук, В.В. Кантан, С.С. Петрова. – Л.: Энергоатомиздат. Ленингр. отд-ние, 1985.
REFERENCES
Prokhorskiy, A.A. Tyagovye i transformatornye podstantsii [Traction and Power Transformer ]. Moscow, Transport Publ., 1983. 496 p.
Davydova, I.K. Spravochnik po ekspluatatsii tyagovykh podstantsiy i postov sektsionirovaniya [Reference manual traction substations and sectioning posts ]. Moscow, Transport Publ., 1978. 416 p.
Figurnov, E.P. Releynaya zashchita. Uchebnik dlya studentov elektrotekhnicheskikh i elektromekhanicheskikh spetsial'nostey transportnykh i drugikh vuzov [Relay protection. Textbook for students of electrical and electromechanical specialty vehicles and other universities. ]. Kiev, Transport Ukrainy Publ., 2004.
Serdinov, S.M. Povyshenie nadezhnosti ustroystv elektrosnabzheniya elektrifitsirovannykh zheleznykh dorog [Improving the reliability of power supply of electrified railways ]. Moscow, Transport Publ., 1985.
Shabalin, N.G. Novye vozmozhnosti diagnostiki poluprovodnikovykh preobrazovateley [New diagnostic capabilities of semiconductor converters]. Lokomotiv Publ., 2002. №7.
Proektirovanie elektricheskoy chasti stantsiy i podstantsiy [Designing electrical parts plants and substations]. Leningrad, Leningrad Energoatomizdat Publ., 1985.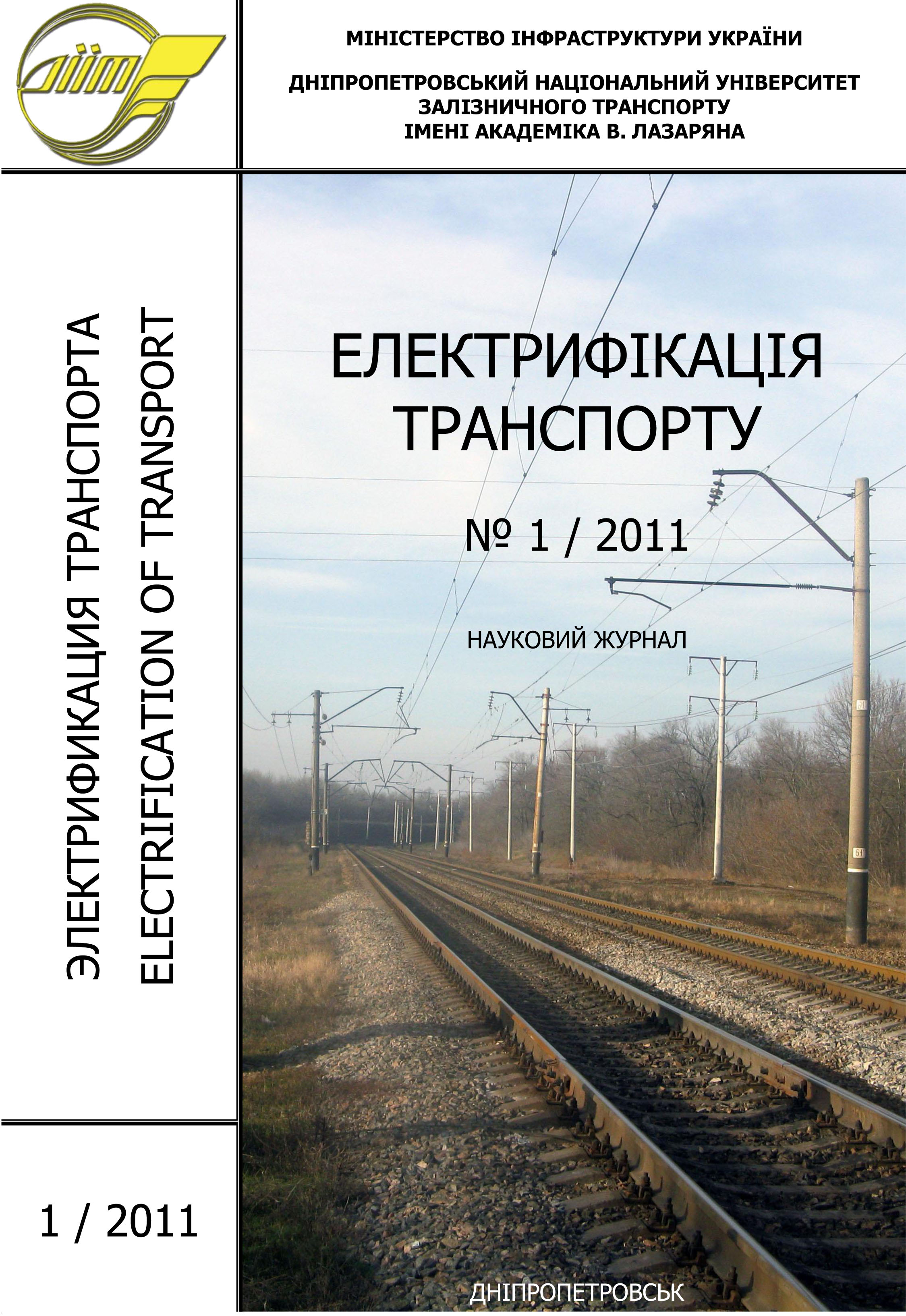 Downloads
License
При направленні статті в редакцію, автор гарантує, що стаття надається для публікації уперше і раніше не була опублікована в інших виданнях повністю або частково.
Підписанням ліцензійного договору автор(и) підтверджує(ють), що має(ють) виняткове авторське право на статтю і передає(ють) невиняткові права на свою статтю видавництву журналу «Електрифікація транспорту» для публікації в черговому номері журналу. Автор(и) так само дає(ють) згоду на передачу і розміщення електронної версії своєї статті на сайтах баз даних, створюваних і поширюваних через Інтернет.