Research of the efficiency of the automated system of commercial electricity consumption calculation for household consumers
Keywords:
accounting automation, electric energy, tariff, household consumers
Abstract
At present, to ensure sustainable development and reliable operation of the electric power industry, first of all, new energy-efficient solutions are needed. One such solution is the automation of the system for controlling and accounting for electrical energy, which makes it possible to substantially improve the efficiency of the use of energy resources.
In order to solve the problem of energy efficiency, the principle of operation of modern automated commercial electricity metering systems (ASCAE) based on multifunctional high-precision microprocessor-based electricity meters was considered. It was analyzed what exactly the goals and technical and economic tasks are for ASCAE. A brief description of the implementation of these systems in countries with different levels of economic development is given. Also considered from which elements the system consists. The effectiveness of the use of AMR in the implementation of energy-saving measures and control of power consumption modes is shown. The economic feasibility of introducing the proposed system
References
Order of 17.04.2000 N 32/28/28/276/75/54 On Approval of the Concept of Construction of Automated Electricity Accounting Systems in the Energy Market.
Official site of the state enterprise "Energorynok" [Electronic resource]. - Site access mode: http://www.er.gov.ua.
Shesterenko A.V. Compensation of error in electronic electricity meters / A.V. Shesterenko // Electrical networks and systems. - 2004. - № 1-2. - P. 85-88.
Shesterenko A.V. ASKUE: use of a radio channel for transmission of electrical measurement data [Electronic resource] / A.V. Shesterenko // site Electrical networks and systems. - Site access mode: http://leg.co.ua.
Ways of improvement of metrological characteristics of measuring complexes containing current and voltage transformers / А.О. Kvitsynsky, M.V Kernschik, V.V. Nazarov, P.D. Nagorny, O.V. Ruban, A.M. Zalizetsky // Power engineering and electrification. - 2003. - №6. - P. 13-20.
Law of Ukraine on Electricity with amendments and supplements introduced by the Laws of Ukraine.
Electricity tariffs [Electronic resource]. - Site access mode: https://index.minfin.com.ua/tarif/electric/
Tariffs for consumers, differentiated by periods of time [Electronic resource]. - Site access mode: http://doe.com.ua/node/1795
State Inspectorate of Energy Supervision of Ukraine [Electronic resource]. - Site access mode:https://den.energy.gov.ua/77-aktualni-pitannya/533-shchodo-nerivnomirnosti-dobovoho-hrafika-navantazhennia-oes-ukrainy-ta-rehuliuvannia-rezhymiv-elektrospozhyvannia
Analysis and implementation of AES in enterprises / Yu.S. Oliynyk / Article / [Electronic resource]. - Mode of access to the site: http://www.hups.mil.gov.ua/periodic-app/article/16482/soi_2016_3_50.pdf.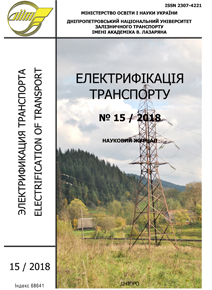 License
При направленні статті в редакцію, автор гарантує, що стаття надається для публікації уперше і раніше не була опублікована в інших виданнях повністю або частково.
Підписанням ліцензійного договору автор(и) підтверджує(ють), що має(ють) виняткове авторське право на статтю і передає(ють) невиняткові права на свою статтю видавництву журналу «Електрифікація транспорту» для публікації в черговому номері журналу. Автор(и) так само дає(ють) згоду на передачу і розміщення електронної версії своєї статті на сайтах баз даних, створюваних і поширюваних через Інтернет.